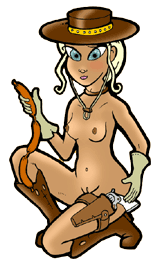 A little about RANCHO CARNE
Business Information
What is Rancho Carne?
Rancho Carne is a free adult DVD review website. Our reviews range from in-depth to no-depth but they are always honest. We encourage our army of reviewers to say what they feel so that our visitors can make the right decisions when they go out to buy or rent their adult movies. Since we're not affiliated with any one company and make no money from our reviews we call 'em like we see 'em. Our reviews cover the gamut of genres including straight, fetish and hardcore. We're currently working on a gay section as well as a section for toys & novelties.

Who is Rancho Carne?
Rancho Carne was founded by Clyde LaRue and & JR Carne, two typical guys who think dirty movies are cool. Rancho Carne maintains a large force of faithful reviewers and Clyde & JR also review movies when the DVD closet runneth over. We do our best to match your movies with someone who will review them objectively and fairly.

Why send your movies to us?
For starters, Rancho Carne currently serves up to 2400 unique visitors per day. We rank highly with several major search engines as well as various industry sites. What this means for you is that websurfers WILL read about your movies. And since every review gets a link to its company's website, our visitors can visit you after they finish reading our reviews.

Where can I send screeners and when will they be reviewed?
Please contact us for an address to ship movies to

We prefer DVDs, but will occasionally review VHS. We review as many movies as we can but we're often behind. We review movies that look interesting first and save the rest for a rainy Pacific NW day. Rest assured, most DVDs eventually get reviewed and the Rancho Robot will automatically notify you the instant your review goes live.

Let us do your work: Rancho Carne's Adult Movie Database!

Rancho Carne is a free adult DVD review website. We're found on the web at www.ranchocarne.com. Every week we update our site with new reviews, pictures and information. Our extensive database inculdes everything you need to expand your own database or adult website.
Our database contains regularly updated entries for Wicked, Vivid, Red Light District, Private, JM Productions, Visual Images, Legend, Feline Films, Digital Sin, Shane's World, Adam And Eve, Shot at Home, Noose Video Productions, X-Traordinary, Bizarre and Skintight Modeling. We've also got entries for Metro, Black Mirror Productions, Zane, Nasty Pixxx, Extreme, Sin City, Hustler, Larry Flynt Presents, Sterling Pictures and many more...
Not all of our movies are categorized, but all new entries will be. The categories we use to define our movies are BBW, amateur, anal, asian, bbw, bdsm, best of, blowjobs, boobs, couples, ebony, euro, fetish, gonzo, group, holy shit, interactive, interracial, lesbians, mature, softcore, sperm, squirt, straight, teen, toys, and watersports.
Our information resides in a sql database, and can be exported as a CSV, text, or other standard delimited file. For example, we use a |pipe| delimited file for rame.net, and a CSV file for our internal projects.
Each movie in our database inculdes the following information: title, director, company, actors, running time (when available), company's website, last production date, category, media reviewed (DVD or VHS), DVD Features (when applicable) and the rating we give to the movie.
We update our licensed databases weekly. We can either email the updates to you or you can have it emailed to yourself at the push of a button. We can also output it to your browser for your robots to copy and paste.
We're currently posting about 20 movies/week, but we hope to add to that significantly after the 2007 AVN show. Your monthly fee will stay the same until we are posting more than 200 movies/month after which prices will be renegotiated.
More questions?
Not sure where the Rancho posse will be next? Need a press release or someone for an interview? E-mail us at and we'd be glad to answer any questions or concerns.

---
Ever wonder how we can keep this project of love on track? Ask for the latest news about Rancho or to submit DVDs for review.
Saddle up, filthmonkies!