---
Rancho Q&A with Ashlynn Brooke, the T&A
Ashlynn Brooke Making Eyes at Us
By: Daisy Mae
---
We at Rancho were able to speak to New Sensations' amazing new contract girl Ashlynn Brooke. Let me tell you Rancho fans she is HOT!!
Rancho: I have noticed in your movies, especially in "Sex with Young Girls 10" that you have wonderful eye contact with the camera. The eye contact in the blowjob scene that you had with Eric Everhard in that movie was truly amazing! In fact, I believe you are one of the best in the industry that I have seen right now in that regards. Is it natural or something that you had to work on?
Ashlynn: WOW! Thank you. It is natural. I have always loved the camera.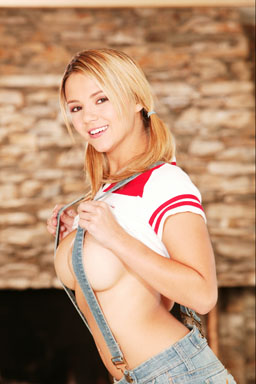 photo courtesy of New Sensations
---
Rancho: When you are performing in a scene you "make-love" to the camera with your eyes...
Ashlynn: You are in a sense. You are making love to the camera and to your fans. You are making love to the person, the camera and to your audience. All angles.
Rancho: What are some of the other things that you feel you do differently then some of the other actresses in the industry.
Ashlynn: I always put forth the most effort I can. I think of what the audience wants to see and try to give them my best; an A-plus performance every time.
Rancho: I have to say that you do look like you are enjoying it which is not always the case with all porn actress. Every movie I have seen you in you look really into it. It is just a pleasure to watch you get off.
Ashlynn: I really do enjoy myself. I LOVE my job!!
Rancho: What makes a great porn star versus just a good one?
Ashlynn: I feel one that is goal orientated and professional. You have to be open minded, someone who is a people person. In this industry we come in contact with so many different individuals.
Rancho: What makes you unique? Why do you think New Sensations wanted you as a contract girl?
Ashlynn: I have a fresh look. I care about myself. I care about people. I feel most important I care about my job. I believe that it really shines thru that I care about my fans. I am in it for the long run. I want to be in this career. A lot of people might be in it for the short term. It is just a job to them, but I am really in it for the long haul .This is something that I really want to be my career for a long time.
Rancho: Have you done any P.O.V.?
Ashlynn: Yes. I have. My first scene was P.O.V for Bang Brothers. I have done quite a bit.
Rancho: What are your future plans? Producing or directing?
Ashlynn: I see my self involved in a lot of things. A lot of doors are opening in the industry right now with TV and a lot of movies and actresses going mainstream. I see myself crossing over a little bit. I would like to have my own movies. My wheels are always turning. I have so many things I want to accomplish. I usually do accomplish what I put my mind to.
Rancho: Do you hope to go into mainstream?
Ashlynn: I love my job right now! I want to make the most of it right now. I have done a film before that is coming out soon. I hope. It was a lot of fun. Then television. I am the hostess of a Canadian television show called "Venus "which is really cool. I would like to do both. I don't want to go totally mainstream. I want to be involved in both the porn industry and mainstream. I love my job so much!! I love what I do. They are both just so much fun. I am open to new things and new opportunities. I like to experiment.
Rancho: Do you date people in the industry? Do you find it easier if they work in the Porn industry?
Ashlynn: Actually I prefer [them] to [work in the industry]. I try to date outside but it is just hard. People inside the industry understand what is involved in doing our work. The outside individuals no matter how they try to understand they just can't. They don't know what it takes to do our work. The people that are involved in the industry do. It is a lot easier to explain things to them. When you go into work they can be like what are you doing today and you are like blah, blah, blah... They are like cool. You don't have to worry about the jealously. With someone on the outside you are sometimes afraid to say something for fear of saying the wrong thing. They may take this wrong or different. It is very difficult to date someone who is not in the porn business.
Rancho: Dating anyone now?
Ashlynn: No. Right now I am just having fun. I am really concentrating on doing my best work and pleasing my fans.
Rancho: I notice that you have a lizard and a tattoo of a women with wings on your back? Do they represent anything to you?
Ashlynn: Yes, it is an angel with clouds around it. It is unfinished. I was married and my ex husband was a tattoo artist and he started it. We were at his shop and were unable to finish it. Then we divorced and I just havenít found someone I like to complete it yet. I have to find someone to finish it. The lizard has no meaning. I got the lizard the day after I got the angel. I was sixteen when I got both of them. Now the angel represents my mother. I have dice on my hip with the number seven because that is my lucky number. I am in the process of having the lizard removed. I know a lot of my fans don't like all my scattered tattoos. I try to keep my fans happy.
Rancho: I know that some companies don't like for their girls to have tattoos. If they do have them they can't get anymore once they are under contract. Does Sensations have anything like that in their contracts?
Ashlynn: New Sensation is great to work for. I canít go to extremes. For example, if I want a little tattoo. I would just go to Scott and say I want this little tattoo. He would say no problem. Now if I wanted to have one on my entire arm and up my back he would be like, "Youíre crazy, no way!" I wanted to dye my hair black. He told me I need to stay blonde for a while. I have been wanting to dye my hair. I had black hair until I was nineteen then got carried away with highlights. I was raised by my grandparents and they wouldn't let me dye my hair until I was 15. They wanted to make sure I was mature and knew what I wanted to do with it. I have to keep hair and weight. I have to maintain a certain look.
Rancho: Have you done any squirting or have you squirted?
Ashlynn: I have squirted in my personal life. I have done it like twice that I remember. I was like how the hell did I just do that! I have no idea what sets me off. I would love to know though. I have to work that one out.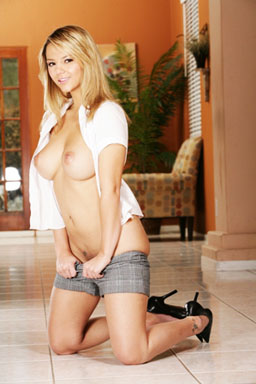 photo courtesy of New Sensations
---
Rancho: Men have pet names for their penis. Any pet name for any of your body parts?
Ashlynn: Actually my girlfriends and I were just chatting about that. I have no pet names for any of my body parts. I never had a name for anything. Weird. My mom just called it what it was. Now an old friend of mine, actually my old agent's girlfriend, used to call her's when she was younger "Her Lasagna". I thought that was really cute. I had never heard that before and it was so different.
Rancho: Mmm, makes me hungry... If you were to come back to earth as a sex toy. What sex toy would you be and why?
Ashlynn: Probably a strap-on. Because you can use it on both guys and girls. It is just so much fun.
Rancho: Favorite sex toy besides the strap-on?
Ashlynn: The wand!! With the wand I can just go over and over with the orgasms. Quick and to the point which is usually the way I like it. The other one is the "egg". You know the vibrating egg. It vibrates in all the right places.
Rancho: Any lines of sex toys out there? Any in the future?
Ashlynn: No. I don't. I would really like to work on that though. I LOVE toys!! I can spend hours and hours in a sex shop. If I go to one that is huge you can forget about it. You won't see me for hours and hours. I go in there and I have such great ideas.
Rancho: They have those pussy molds out there. A lot of porn starlets are having molds made of their pussies. Have you ever thought of doing that?
Ashlynn: I would love to do that ! I definitely want to do that one.
Rancho: Like the "Bad Boy Buddy Ashlynn Brooke" model.
Ashlynn: Yeah! That would be cool.
Rancho: If there was going to be a remake of "Taboo" or "Debbie Does Dallas" which one would you prefer to be in?
Ashlynn: "Taboo" for a career move. They don't allow that type of movie to be made anymore. I believe a modernized "Taboo" would be super hot!
Rancho: I didnít know they were not allowed to make incest porn or implied incest porn.
Ashlynn: I didn't know that until last night when I was on "Playboy's Night Calls" and Ginger actually told me we are not allow to do those anymore. I was like we HAVE to change that. We can do all these things in movie but you can't have a movie about that. It is crazy!
Rancho: How did it go on Playboy last night? Did you have fun?
Ashlynn: Yes! It was so much fun. The girls were wonderful! It went very well.
Rancho: Any strange questions from fans last night?
Ashlynn: I didn't have any. The strangest questions came from the girls .We were all kind of crazy! We had people call in but I didn't really have a chance to speak to the fans. I really wanted to. We were talking so much and they were asking me so much about my career that we didn't get around to it. I really regret that, but I hope next time I will have the opportunity to speak to my fans.
Rancho: If you could interview anyone in the whole world who would it be and why?
Ashlynn: Britney Spears. I have said that before. I have been so fascinated with her career up to now. I want to know what she is thinking. I love her and always have. I never would say anything bad about her or judge her. I just want to know. It think what it was is we had a similar childhood. I feel like she was always pushed into the spot light. I was never pushed into the spotlight. But she never had a chance to be a child. To have a normal childhood. I also never got to be a child because of my family situation. I just never did with my family the way it was. I would just really love the opportunity to just talk to her. I think she needs someone to just be there.
Rancho: Hey Britney, if you are reading this contact Ashlynn!
Ashlynn: Yeah, We have a friend for you.
Rancho: Do you have a website where fans can check you out?
Ashlynn: I will. We are still working on the site. It is not up and running yet. I am not sure when it will be finished but soon. Fans can go to Ashlynn Brooke atMySpace for right now.
Rancho: I know you are very busy. Is there anything you want to say before we go?
Ashlynn: Thank you to my fans! You are the greatest!
Rancho: We expect great things from this fine lady in the future. Keep your eye on her! If you want to see some great eye contact with the camera and great blow job action pick up one of her movies. She is not bad riding dick either. We personally recommend "Sex with Young Girls 10" by New Sensations.
Check out these Rancho reviews of Ashlynn Brooke's movies
AMATEUR POV 2 - Amateur district
TYLER SCOTTS SEX WITH YOUNG GIRLS 10 - New Sensations
PLATINUM X ON THE ROAD SOUTH BEACH 2 - Platinum X
BOUND TO PLEASE - Digital Sin
BUSTY COLLEGE COEDS P.O.V 3 - Greedy Video
ASHLYNN GOES TO COLLEGE 2 - New Sensations
SCHOOL GIRL P.O.V 2 - New Sensations
BIG POLE LITTLE HOLE - New Sensations
ASHLYNN AND FRIENDS 3 - Digital Sin
GETTING ALL A+'S - Digital Sin
YOUNG GIRLS WITH BIG TITS #3 - New Sensations
I LOVE ASHLYNN - New Sensations
ALL ABOUT ASHLYNN - Digital Sin
ASHLYNN GOES TO COLLEGE #3 - New Sensations
ASHLYNN GOES TO COLLEGE 4 - New Sensations
MY PLAYTHING ASHLYNN BROOKE - Digital Sin
WHORE AT MY DOOR #6 - 5th Element
ASHLYNN AND FRIENDS 5 - Digital Sin
HEARTS AND MINDS 2 - New Sensations
FANTASY ALL-STARS 8 - Digital Sin
FANTASY ALL STARS 7 - New Sensations
ASHLYNN AND FRIENDS 6 - Digital Sin
YOUNG, WET, AND HORNY 4 - Digital Sin
MONSTER MEAT 7 - Digital Sin
MICHAEL STEFANO DOES THEM ALL - Digital Sin
GETTING ALL A+S 2 - Digital Sin
ADDICTED #4 - New Sensations
MONSTER MEAT 10 - Digital Sin
ALL ABOUT ASHLYNN 2 - Digital Sin
ONLY THE BEAUTIFUL - New Sensations
THE OFFICE: A XXX PARODY - New Sensations
BEST OF NEW SENSATIONS 2008 - New Sensations
PANTY HOES 8 - New Sensations/Digital Sin
I LOVE - 100TH EDITION - New Sensations
THE NAUGHTY CHEERLEADER CLUB - New Sensations
I LOVE BLONDES 2 - New Sensations/Digital Sin
ASHLYNN AND FRIENDS 7 - New Sensations/Digital Sin
A SHOT TO THE MOUTH - Digital Sin
ADDICTED 5 - New Sensations
ASHLYNN AND FRIENDS 8 - Digital Sin
I LOVE ASHLYNN 2 - New Sensations
SCRUBS : A XXX PARODY - New Sensations
GETTING ALL A+S 7 - Digital Sin
'70'S SHOW - A XXX PARODY - New Sensations
30 ROCK A XXX PARODY - New Sensations
MONSTER MEAT #18 - Digital Sin
ASHLYNN BROOKE'S ADVENTURES IN SEX - New Sensations
MY XXX SECRETARY #2 - Digital Sin
CUMS IN HER MOUTH NOT IN HER HANDS #2 - Digital Sin
ASHLYNN BROOKE'S LESBIAN FANTASIES - Digital Sin
ENTOURAGE A XXX PARODY - New Sensations
I LOVE LINDSEY - New Sensations
CUM ON MY BIG TITS - New Sensations
THE OFFICE 2 - A XXX PARODY - New Sensations
BIGGER FEELS BETTER - Digital Sin
THE WEDDING DAY - New Sensations
ALL ABOUT ASHLYNN #3 - Digital Sin
SHE LOVES THICK DICKS - Digital Sin
SEX IN MY PJ'S 2 - New Sensations
SEX IN MY PJ'S 2 - New Sensations
SO BIG INSIDE ME - New Sensations
HUNG AND MOUNTED - New Sensations
DOUBLED UP! (NEW SENSATIONS) - New Sensations