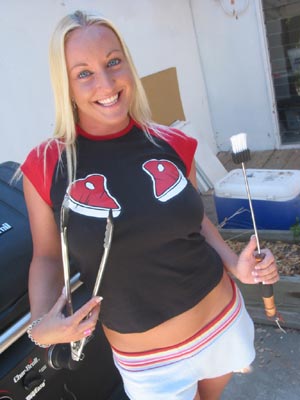 ---
Rancho Q&A with Calli Cox, the T&A
Straight Shootin' with Calli Cox
By: The Management
---
Rancho: Firstly, please compose a haiku about yourself.
Calli:
ohmigosh--she's here!
blonde queen, camaro pilot
keep hands to yourself.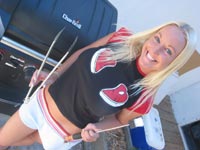 Calli wearing her very own official Rancho Carne t-shirt.
Rancho: What's your name and age?
Calli: My name is Calli Cox and I will turn 26 on Feb 26th.
Rancho: How did you pick your pornstar name?
Calli: After several attempts, none of which my agent at the time liked, I came up with Calli Cox. Calli because that is where I had ended up and Cox because it just seemed to fit.
Rancho: Who's meaner: Americans or Germans?
Calli: Honestly, I don't know any Germans, and I think a lot of people in general are mean. I guess if I had to choose I'd say Americans.
Rancho: Would you have sex with George W. Bush? How about if you were really really drunk and his wife wanted to watch?
Calli: Definately not! However, if his wife wanted to watch I might do it just for the kinky factor!
Rancho: Critics of pornography say it exploits and de-humanizes women. How do you defend your job?
Calli: Definately not true. Women get into this industry these days because they want to, not because they have to. The body is an amazing thing, why should it and sex be looked at as taboo? If any exploitation is going on, its the general population of men that are being exploited!
Rancho: Have you ever used a bread machine?
Calli: Nope, I make my own bread from scratch. I love to cook!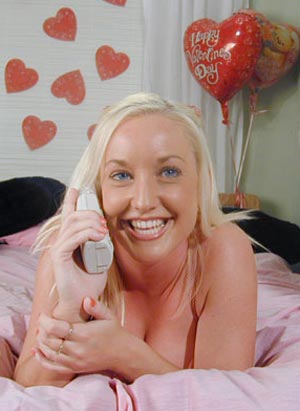 Rancho: If you had to create your ultimate Frankenstein lover what parts would you choose from what men to build your creation?
Calli: I would pick the hands of Tex (no one else has ever made me squirt like that!), the body of Brad Pitt in Fight Club, the penis of Lexington Steele (always rock hard), and the head of my boyfriend (no one kisses or looks at me like he does!).
Rancho: Do you have any funny or sexy recreational drug stories?
Calli: I'm an avid pot smoker, so although everytime I smoke there is a funny or sexy story, I can hardly ever remember them!!!
Rancho: Do you believe aliens exist?
Calli: Hell yes! I used to be afraid as a child that they were going to take me away.
Rancho: So, is Shane's World really the big fun party you see in the movies?
Calli: Although we put in a lot of hard work, it really is the big party. I have NEVER had so much fun at "work"!
Rancho: Do pornstars ever hire trainers that train them to fuck?
Calli: Not that I'm aware of. Shouldn't the pornstars be hired as the trainers?
Rancho: What do you consider the ultimate healthy diet? Don't say penis or anything that comes out of one.
Calli: I'm not really the healty eater, but I try. My diet consists of a lot of salad, chicken, chocolate, and ice cream. Oh, and don't forget the Mexican food!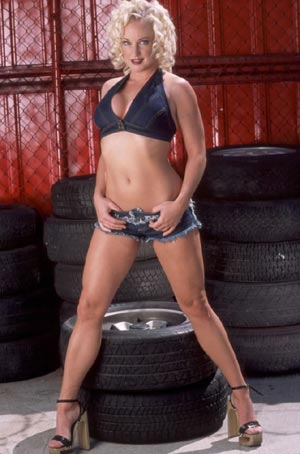 Rancho: In high school, you would have been voted most likely to ___________?
Calli: In high school I was voted most athletic and most likely to succeed.
Rancho: What's the most expensive item of clothing you've bought since becoming a pornstar?
Calli: I once spent $90 on a pair of denim shorts, thats probably the most ridiculous! The most though is my dress for the AVN award show last year...$900.
Rancho: Can you recommend a book for our more intellectual Rancho readers (all two of them)?
Calli: Two of my favorite books are The Catcher in the Rye and 1984. Both from the high school days, but classics with great stories.
Rancho: Do you have a t-shirt that says "Pornstar" on it?
Calli: I used to. Once I got in the business though, I thought it was a little cheesy!
Rancho: Are you afraid of anything?
Calli: Heights with no edge, you know like cliffs or rooftops. They give me anxiety to get anywhere near the edge. Same feeling in an Omnimax theater.
Rancho: Is female ejaculation a myth? Convince us of your answer.
Calli: Definately not a myth. You want proof, watch my scene in Shane's World #30: Keepin it Real!!!!!
Rancho: What would you like your epitaph to say?
Calli: I'd rather not have one. I simply want to be cremated and sprinkled.
Check out these Rancho reviews of Calli's movies!
Check out these Rancho reviews of Calli Cox's movies
ONE SLEEPLESS NIGHT - Wicked Pictures
THE 4 FINGER CLUB 15 - New Sensations/Digital Sin
HEAVEN SENT - Legend
-
SHANES WORLD 30 - Shanes World
-
SLOWBURN - Adam and Eve Productions
THRILLS - Vivid
YOUR TIME IS UP - Private Pictures
LA FEMME NIKITA DENISE - Legend
SHANES WORLD 29 - Shanes World
ROLE MODELS 3 - Legend
HIGH CLASS ASS - Adam And Eve Productions
-
GALLERY OF SIN 6 - Legend
V EIGHT 7 - Visual Images
COLLEGE INVASION 1 - Shanes World
COLLEGE INVASION 2 - Shanes World
SHANE'S WORLD 30: KEEPIN' IT REAL - Shanes World
SHANE'S WORLD 33 DOWN FOR WHATEVER - Shanes World
HARD AND DEEP - Adam And Eve Productions
RETURN TO THE EDGE - Adam And Eve Productions