---
Rancho Q&A with Joanna Angel, the T&A
Joanna Angel Burning Down the House
By: Earl Lawton
---
Rancho: Joanna, thanks for taking the time to talk with us today; we know you are busy. As you know we got an advance screener copy of "Porny Monster" before the big debut at the show. It was great!
Joanna: Did you see "Party Monster? You have to see it! The idea of "Porny Monster" came from that movie. It is a cult classic. It is my favorite movie!
Rancho: So, for "Porny Monster" you wrote the script? What kind of process was that?
Joanna: I have written the scripts for every one of the movies I have directed. This one took a long time to write. It took me a month to write that script. "Party Monster" is a story about the limelight. It's about this huge club in New York, back in the early nineties, where these club kids go with all these crazy people with crazy makeup and costumes always hanging out there every night. It got shut down and this movie was about what happened. So I took it and changed it to make it porny; I turned it into a porn.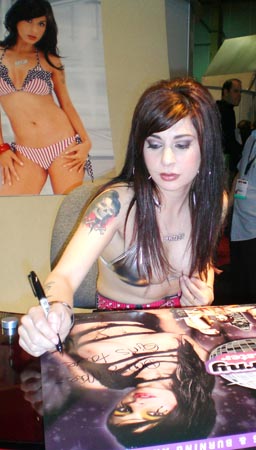 Rancho: So did you do it from memory or scene for scene?

Joanna: I have watched "Party Monster" a million times, I watched it while I was doing the script. I obviously could not do every single scene; I changed some parts to make it my own movie. I watched it again and took my favorite parts of the movie and spoofed it a little bit and added my own stuff into it.

Rancho: You asked me earlier what my favorite scene was and I said the bathroom scene. There is something about that and it gives you something to think about while you are there.

Joanna: Yes, everyone has had sex in the bathroom!

Joanna: Did you like the Glory hole? That was hot wasn't it?

Rancho:Hell, yes that was hot. Thanks for reminding me; I just messed myself...gotta go…just kidding…

Joanna: The whole idea of making these features is to make a movie where somebody will not fast forward thru the plot.

Rancho: That is tough especially for our reviewers but it also makes the fans pay attention. I know in the "Xxxerocist" you couldn't fast forward thru it you just have to see what is going on. I even looked at the "Behind the Scenes" and I usually don't look at that but with the "Xxxerocist" I did.

Joanna: "Porny Monster" has a whole disc of "Behind the Scenes". Do you know Tommy Pistol in the movie made a music video as D.J. Tommy Pistol? He made this song and it is 'I am D.J. Tommy Pistol' and it (giggling) is this stupid rap song about being a DJ and nobody liking him. He made a music video about it! It is one of the bonuses. It is very funny.

Rancho: We only got a copy that didn't have the extras, they weren't ready yet. Is he going to put that out on MTV?

Joanna: No. It won't be on MTV. It is a really funny video. We filmed it in a supermarket at 4 in the morning. I think everyone liked being in the movie so much that they just stayed in character for another month.

Rancho: I know you are also involved with Burning Angel.

Joanna: It is a company I own, burningangel.com. is the website. With "Porny Monster" just coming out I am going to push it a lot. I am going to keep doing movies, keep putting out stuff from Burning Angel.

Burning Angel is supposed to be a website for amateurs; for girls that really don't do porn. I am still the owner of the Burning Angel website; my voice is still on there. I believe I am going to put most of my stuff on JoannaAngel.com.that way some of the other girls can shine on Burning Angel. This is where I get the girls I usually use in my movies

Rancho: So what is JoannaAngel.com?

Joanna: It is all me. It is stuff with me at home with a lot of amateur video. A lot of stuff with me doing dishes with my clothes off or doing laundry. It is a lot of just me hanging around my house just being me. It is not like "Porny Monster" high budget, dialog stuff. It is just me running around my house being normal. There are sex videos on there too. They are at home stuff and I have my diary on there.

I am going to keep doing everything I am doing, but do it better.

Rancho: What is the best perk of your job?

Joanna: I get to have sex on camera! That is really fun. I also like coming up with ideas for movies and bringing them to life. It is so stressful, but when they are done it is so rewarding. I had this idea in my head, I want to make a porn "Party Monster". I went to Hustler and they gave me money to make this movie. I got the whole crew together and booked it, found the locations and I just watch my idea come to life. Is so cool and so much fun.

Rancho: Before you got into the porn business did you also have some kind of creative outlet?

Joanna: Yes. I was an English major and had a concentration in creative writing. So I have been writing a very long time. I use to write fiction and poetry, but not that many screen plays. I was like what is the point of writing a screen play; it is never going to happen. It is really cool knowing that I can just bring them to life. It is really fun for me to write them.

Rancho: Since you asked me, what was *your* favorite part of "Porny Monster"?

Joanna: Well, it is my movie so I like the whole thing. My favorite part personally, and I can't say the parts with me in it because I am really critical of myself. So it would have to be the DJ Tommy Pistol video. It is just so funny. I just remember when we were filming it we had to stop so many times because we would just laugh and then start going again. I also really liked doing the dance scene; when we are dancing to the song. That part was really fun. So those are probably my two favorite parts.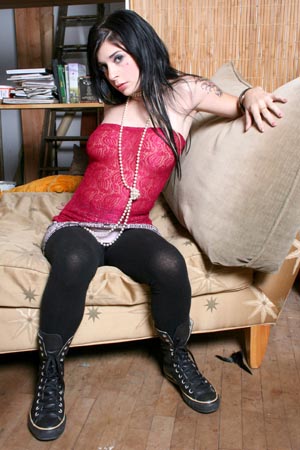 Rancho: What is your favorite sex toy?
Joanna: I like objects better then sex toys. I think they're funnier. I have this video where I am making this pasta salad and I am like "everyone I am making this pasta salad". I continue making the salad and go thru the whole cooking thing. Then take everything I cooked it with and stick it in my ass. It is really funny! We have videos of me taking things in the living room, center pieces, lamps and sticking them in me. That stuff is more fun for me then using a sex toy.
Rancho: It is more kinky, that's for sure!
Joanna: More kinky. More silly. I don't know. I like those pocket rocket vibrating things. Those are probably the best toys. They are the only toys that can do things that no other human can do. A dildo, you know, is not quite as good as a dick. Those little vibrating toys, *no* guy or girl can do that. I have just never liked sex toys. You can do a lot with just your fingers.
Rancho: Speaking of objects, the new thing our Rancho team is hearing about, is when your pocket rocket or vibrator breaks to use an electric tooth brush. Have you ever tried that?
Joanna: No, I have never used an electric toothbrush, but I have used one of those electric razors. I kind of just put it on me. I have done little videos on my website of all sorts of things.
Rancho: Is there anything in your house you wouldn't put inside you?
Joanna: If it can't fit then I won't put it in me. I try to put everything in me. I got a soda can and put it in my ass. If there is anything that can fit it is going in there.
Rancho: How did you get worked up for that? Did you practice a lot?
Joanna: No. I just stuck it in. It took a few tries, but I just jammed it in. We were on set filming "Joanna Angel's Guide to Humping"; it is one of my favorite movies. We were just sitting around and they were setting up for the next scene with the lights and stuff. Someone was like "Hey, Joanna, I bet you can't stick this up your ass?" And I said," Yes, I can." Then someone just jammed it in.
Rancho: So what did you win besides a can of soda up your ass?
Joanna: Nothing. It is just the satisfaction of knowing that I can do it. They wouldn't even let me show it in the behind-the-scenes because you can't put objects inside of you in Hustler videos. I tried to put that in my" behind the scenes" in one of my movies but for some reason they made me take it out. Nobody got to see it. It was such a shame. I can put it on my website.
Rancho: Speaking of that, how much creative control do you have over the final product?
Joanna: They are pretty good about letting me do whatever I want, but obviously they own the movie so they tell me to put more of this or less of that. They give me suggestions. They know what sells. They pretty much let me do what I want.
Rancho: How did they discover you?
Joanna: I went to AVN and my friend introduced me to some people. I went in for a meeting where the girl was like 'your stuff is not that good'. It wasn't; I was just making some internet stuff at the time. She was like if you really want to work here you have to have better content. So I went back to New York and really worked hard and worked on the content. I came back and she was like we will give you another chance. I made "Joanna's Angels" which was the first movie I made for them and it was nominated for seven AVN awards! It was the only mainstream porn movie I had out there.
Rancho: On screen you seen to like anal. Is that true in your personal life also?
Joanna: It wasn't. When I first started it was like the second or third time I had had anal sex in my life. Then I started to really like it. Now I do it all the time.
Rancho: How do you find the locations for your movies? Did you have to close the whole diner in "Porny Monster" for that one scene?
Joanna: For the "Food Swings" scene, I know the guy that owns it so he let me use it. I know a lot of people and I work with what I have. I use Myspace and friend's spaces, I use my website; my whole life is a series of networking and talking to people. Anytime I am making a movie and thinking about location I am like 'I met that guy once and maybe he will let me use his place or knows someone'. It is your job to find stuff. I just shot a new movie last weekend. I am not sure what the title is going to be yet so I don't want to say, but we shot a scene in a tow truck yard. We just found the place by calling up random tow truck places and asked if we could use one of their tow trucks and they could close down the place for a few hours. We were going thru the phone book and everyone is like no and no. Then we found a place called J&A towing. I said it is a sign. It was like Joanna Angel towing! They said yes of all people.
Rancho: So when you go out do a lot of people recognize you?
Joanna: In New York. Not in L.A.
Rancho: Rancho Carne fans come and check out Joanna on burningangel.comand also her website JoannaAngel.com.. Anything you would like to add Joanna?
Joanna: Yes, watch my new movie "Porny Monster"!
Check out these Rancho reviews of Joanna Angel's movies
JOANNA'S ANGELS - Excessive Entertainment
VINCE VOUYER'S YOUNG RIPE MELLONS - Red Light District
YOUNG RIPE MELLONS 8 - Red Light District
KILL GIRL KILL 3 - VCA Pictures
EON MCKAI'S NEU WAVE HOOKERS - VCA Pictures
TRISTAN TAORMINO'S HOUSE OF ASS - Adam And Eve Productions
-
BURNING ANGEL'S RE-PENETRATOR - Pulse Distribution
RENDEZVOUS - Wicked Pictures
CUM ON MY TATTOO - Burning Angel Entertainment
FUCK DOLLS 7 - Red Light District
VIRGIN TERRITORY - Smash Pictures
THE XXXORCIST - Burning Angel Entertainment
PORNY MONSTER - VCA Pictures
-
EAST COAST ASSAULT - Jules Jordan Video
JOANNA ANGELS ANAL PERVERSIONS - Hustler Video
NOT ANOTHER PORN MOVIE - Adam And Eve Productions
GIRLS GIRLS GIRLS - Burning Angel Entertainment
GROUP SEX #6 - Adam And Eve Productions
JUICE BOXES - Adam and Eve Productions
THE GREAT AMERICAN SQUIRT OFF 2 - Digital Sin
SCRUBS : A XXX PARODY - New Sensations
THE JOANNA ANGEL MAGICAL THREESOME ADVENTURE EXPERIENCE - Burning Angel Entertainment
PUNK ROCK PUSSYCAT DOLLS - Burning Angel Entertainment
HUSTLER'S UNTRUE HOLLYWOOD STORIES - JESSE JAMES - Hustler
CRUSHING ON KLEIO - Burning Angel Entertainment
CRUSHING ON KLEIO - Burning Angel Entertainment