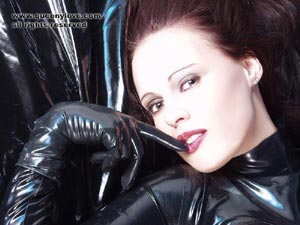 ---
Rancho Q&A with Queeny Love, the T&A
The Good Girl Queeny Love
By: The Management
---
Rancho: Firstly, please compose a haiku about yourself.
Queeny Love:
I am a good girl!
Well, maybe I am a bit perverted!?
Okay...I am a slut!


Rancho: What's your name and age?
Queeny Love: Queeny Love, 23.

Rancho: Your website has some very extreme stuff on it - drinking your own puke, sucking cum and pee out of your ass, and fisting just to name a few of your recent activities. Are these things typical of your every day sex life?
Queeny Love: No, this is not what I'm doing every day. It is like eating the same things every day...you would lose interest in it and it would not be fun anymore. And fun is what it is all about! :) It really depends on what mood I'm in! I like making gentle sex or even real love...but when I'm in the mood for more, I drink piss, have a bunch of guys come over to bang me, snort cum or get my throat fucked till I gag and puke! I really love all of my moods! ;)

Rancho: What do you think the best way to kill Saddam is?
Queeny Love: I guess I'm a little late with answering my interview!? ;) ..hopefully this problem already got solved!? ;)

Rancho: Are you a dog person, a cat person or a neither person?
Queeny Love: I like both...But they need a lot of attention...and I just don't have enough time to really care for them. So I'm more a "neither person." Cause I better don't have pets if I can not commit enough time to them.

Rancho: Did you hear about that woman who went on a cum-only diet for a week? What do you think about that?
Queeny Love: Hihi...I like that idea! :) But I'm not really sure if cum makes a good diet!? ;)

Rancho: Can you tell us about the record-breaking bukkake event you're gearing up to do?
Queeny Love: It was canceled. :( Just to many problems. But hopefully I can do it somedays anyway!?

Rancho: Do you know how to gut a deer?
Queeny Love: No way...I could never do that! I would faint away before even having started.

Rancho: Where did you grow up and what was that like?
Queeny Love: I grew up in the north-western part of Germany in a very wealthy surrounding. I was a nerd in school always hunting for the next A++. Hihi...now I catch up with what I missed when reading all these books and learning for school! ;) And I have to commit...Sex is more fun than learning! ;)

Rancho: Have you ever been to a Monster Truck Show?
Queeny Love: SURE!!! I love it loud and big! :)

Rancho: A lot of fans send you shoes and you have a large shoe collection. Do you have a favorite pair of shoes?
Queeny Love: Oh...hard to say...every pair has its own story and I love all of them. I guess I could not really decide which pair is my favourite...Maybe my pink gangbang-heels.. or my white spike heels in which I had my first DP...or my fluffy "stranger love" heels (long story)...hmmm...you see, no decision possible...and I could go on for hours! Oh, I love my heels! :)

Rancho: Have your parents ever seen your website?
Queeny Love: Well, they know what I'm doing...but they haven't seen my website yet. They are just another generation and would not really understand some of the things I do. ;)

Rancho: What's the largest amount of sperm you've ever had in your stomach at once?
Queeny Love: 7 loads. I know that's more like an appetizer...but believe me, I will get my stomach filled with a lot more cum soon!! :)

Rancho: Are you sober when you perform your sex stunts or do you ever get high or drunk beforehand?
Queeny Love: I never drink or smoke anything...neither before doing scenes nor in privacy. I get my kick out of the sex.

Rancho: What was the last dream you had (or at least the last one that you remember)?
Queeny Love: Honestly...I never remember my dreams. But when I get awake with having a wet pussy, I know I had a good dream! ;)

Rancho: Are you a religious person? If you are, how do you justify your lifestyle with regard to your spiritual beliefs?
Queeny Love: I'm a moderate believer...but really...an active sexlife doesn't make you devils right hand! So even if I would go to church every day, I would still enjoy my sexlife! Cause it is fun and I don't hurt anyone and there is nothing bad about it! :)

Rancho: Should a girl have anal sex on the first date?
Queeny Love: Why not? but if you don't know that guy, use a condom! But that should be a rule for any sort of first date sex!

Rancho: You're a pretty brave person, judging by your career. Is there anything out there that grosses you out, disgusts you or scares you?
Queeny Love: Unprofessional and careless people...they make the business dangerous and really scare me!

Rancho: Would you ever consider shaving your head?
Queeny Love: Hmmmmm...NO! ;)

Rancho: Please complete this sentence: The next best thing to sex is...
Queeny Love: Even more and much harder sex!



Check out these Rancho reviews of Queeny Love's movies
THE MAX HARDCORE FAKTOR 2 - Max Hardcore
PURE MAX 8 - Max Hardcore
PLANET MAX 12 - Max Hardcore
-