---
Rancho Q&A with Shay Jordan, the T&A
Chef Shay J Getting Hot
By: Earl Lawton
---
Rancho: You performed with Scott Nails "Teagan Sexual Freak 2". In fact he was your first man after "Dirty Debutantes". Why did you decide to go back to men?
Shay: Actually, I guess I needed the money, but why not? The girl stuff got slow and I did a lot of it. I had a girlfriend at the time so I didn't believe it would be that difficult to do men. I was right. I always promised myself that if I went back to guys it would only be as a contract girl. Lucky for me the first people that wanted me (Digital Playground) wanted me as a contract star. I scored!!!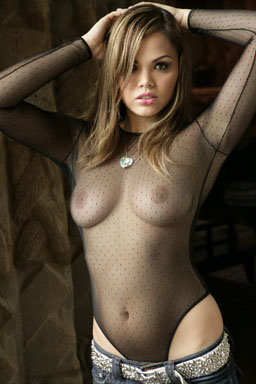 Rancho: How does being a contract girl compare with not being one?
Shay: I love being a contract girl. You have picture hanging up everywhere! It is just awesome!
Rancho: What is the best part of being a contract star?
Shay: Is being a star, being a celebrity, people wanting your autograph! I have never experienced anything like this. I have had people come up to me and say I know your work. I never get tired of that! It is amazing. The fans are amazing! You have fans come up and they want to have their picture with you. You have people know you that you wouldn't believe would know who you are. I am really having a wonderful time.
Rancho: Since you have become a star, what is the coolest thing you have received?
Shay: You get movies free and toys! My favorite was a bag of adult toys that I got at an adult party. I am still new in the business so I am sure there is more to come.
Rancho: What's your best trait?
Shay: I am perky! I am easy to work with, I am always there; very reliable. I am on the set when I am supposed to be, I handle myself in a professional manner.
Rancho: For the record, we have to ask, what are your measurements?
Shay: I am 34C-24-34. I haven't measured in awhile!
Rancho: Well, I have a tape measure in my pocket…
Shay: [laughs] ha, ha, I bet you do!
Rancho: Are you all-natural?
Shay: Yes, of course. Everything on me is natural.
Rancho: So the big question, why porn?
Shay: I wanted to be a model. I believed that would be a lot harder but I am very sexual. I was like 'modeling, sex, cameras, money' why not? I love the camera and get to have sex in front of the camera. That is very hard for a lot of girls to do; I actually climax in my scenes. It actually makes me so hot to have the cameras there and people watching me have sex.
Rancho: With all that heat, have you squirted?
Shay: Not yet. I am waiting for right person. I just never have. I will be stoked when I do though! I think I have felt it a couple of times but I always stop. If I keep going I believe I would squirt.
Rancho: Out of the movies that you starred in, what is your favorite?
Shay: "Shay Sexual Freak" I love this movie!! It is great!
Rancho: Why do you love this movie? What is your favorite scene?
Shay: The house, the set up, what I was wearing which was barely anything just black panties, belt and sunglasses…so hot! The set up is really cool with the house. I know I already said that you just have to watch this movie.
Rancho: Sounds like that was quite a turn-on; we will be sure to do that. When you are having sex do you like dress up?
Shay: I don't dress in costumes or anything. I like to keep something on even if it is just socks, boots, a bra with my boobs hanging out over the top. Just things like that.
Rancho: Any piercings that your fans don't know about?
Shay: No, but I would like some jewelry down under. I want to get a bar. I heard if you have it you can get an organism just by walking. I am just too nervous right now. Just imaging you can walk and you are like 'Oh…Oh, Yes!!'
Rancho: So what's stopping you? Sounds like a winner to us!
Shay: I am nervous. Also since I am doing this I don't want to because sexy for some might not be sexy for others. I will when I am not in the industry. When I get back to private life maybe.
Rancho: Let's hope that is along way off. Until then, what do you hope to do in the industry?
Shay: I want to be the next Tera Patrick. How she got big, now her name is known and what she has done from that, she has also been in it a long time. I have a lot of goals after the industry.
Rancho: What are some of them?
Shay: I am a certified chef. I would like to open my own restaurant with other chefs working under me. If I was working as a chef now I don't believe I would make enough money to realize that dream.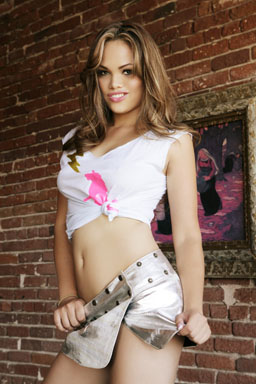 Rancho: We'd love to be one of your first customers. Beyond kitchen tools, what are your favorite sex toys?
Shay: Well, I have my own line of toys coming out soon, I am sure I will have a favorite. I love vibrators though. Right now my favorite is a little purple Pocket Rocket. It is small, but, wow it feels so good. I can have ten orgasms in thirty minutes with it.
Rancho: That would be something to see! Favorite position?
Shay: Missionary; only because my g-spot only gets hit in missionary. It feels really good. The other positions feel good, but they tend to hurt but missionary never does.
Rancho: You mentioned a girlfriend, is she still in the picture?
Shay: No. I am good right now, not in any relationship. I am just concentrating on my career.
Rancho: What do you look for in another person? Would a fan have a chance with you?
Shay: Yes! I don't like jerks or perverts. I don't want someone to want me because I am a porn star. I want someone who is real.
Rancho: At home what is the real Shay like?
Shay: I come home, take off my heels and get my Hanes boy panties on and watch TV; whatever I record on VOD. My favorite show is "Girlfriends". It is about these four black girls and they are just so funny!!
Rancho: Looks like the show is about to open for fans so we have to leave you soon, do you have a web site where fans can see you and learn even more about you?
Shay: Yes. MySpace. Shay Jordan at MySpace. I will pop right up.
Rancho: I know the feeling….We're on Myspace too, will you be our friend? Tom is fun and all, but…
Shay: Of course!! Please add me!
Rancho: Thanks, Shay; we love ya!
Check out these Rancho reviews of Shay Jordan's movies
NAKED ACES - Digital Playground
BABYSITTERS - Digital Playground
VIRTUAL SEX WITH SHAY JORDAN - Digital Playground
JESSE JANE - SCREAM - Digital Playground